As the kitchen continues to evolve into a multi-use space in the home, many people enjoy utilising it as an entertainment zone. It is often said that the kitchen is the heart of a home as it is not only a place for preparing food and cooking, but it is also a major social area where friends and family can gather to feast and make memories that last a lifetime. This becomes even more of a priority during the fast-approaching holidays, as the combination of food, family, and friends is synonymous with the end of the year.  
 
For those who enjoy entertaining in the kitchen and are ready to start planning their dream space, Kaiser Designer Rohit Patel shares some suggestions on how to turn this practical room into a space that creates a warm and inviting ambience. 
Choose an Open-plan Layout
An open layout is the perfect combination between a functional kitchen area where you prepare precious meals and bake endless batches of cookies and a social entertaining space where holiday memories are made. An inviting kitchen should be spacious in which guests can walk around with ease.
And without the need to make constant trips from one room to another, with an open-concept kitchen, you can indulge in your time with your family and friends and get all duties done in proximity. With fewer to no separations at all, it will make your space feel welcoming and warm.
Include an Island or Peninsula
The kitchen and living room have been strongly associated with each other and this is precisely the reason why kitchen islands and peninsulas have become so popular. Besides offering an additional working station to help you prepare meals, they are also a great informal space for guests to gather around and a great way to bring fun and activity while you work. Moreover, they give more options for storage and functionality and are very useful if you are considering adding another sink or additional integrated appliances beneath them, such as a wine cooler or beverage refrigerator.
Integrate a Beverage Center
Now that the kitchen has become the focal point for family bonding and entertainment, a beverage station is a good idea to incorporate into your design. It is recommended to create another zone apart from work zones: the beverage center. This offers a designated and multi-functional area to store and display soft drinks, beer, wine, and everything in between. When placed away from the main preparation area, it is the perfect complement to any room and is an accessible place for friends and family to find their own drinks without interfering with the main workflow of the kitchen, making entertaining simpler and life more fun.
Consider a Back Kitchen
The combination of show and back kitchens, also known as grease kitchens, is becoming more popular as people choose to entertain in their kitchens but also require a closed and convenient space to keep their cooking pots and clutter out of sight. The show kitchen is usually made with more aesthetic material and is designated for presentation and entertaining while the back kitchen becomes the true working zone.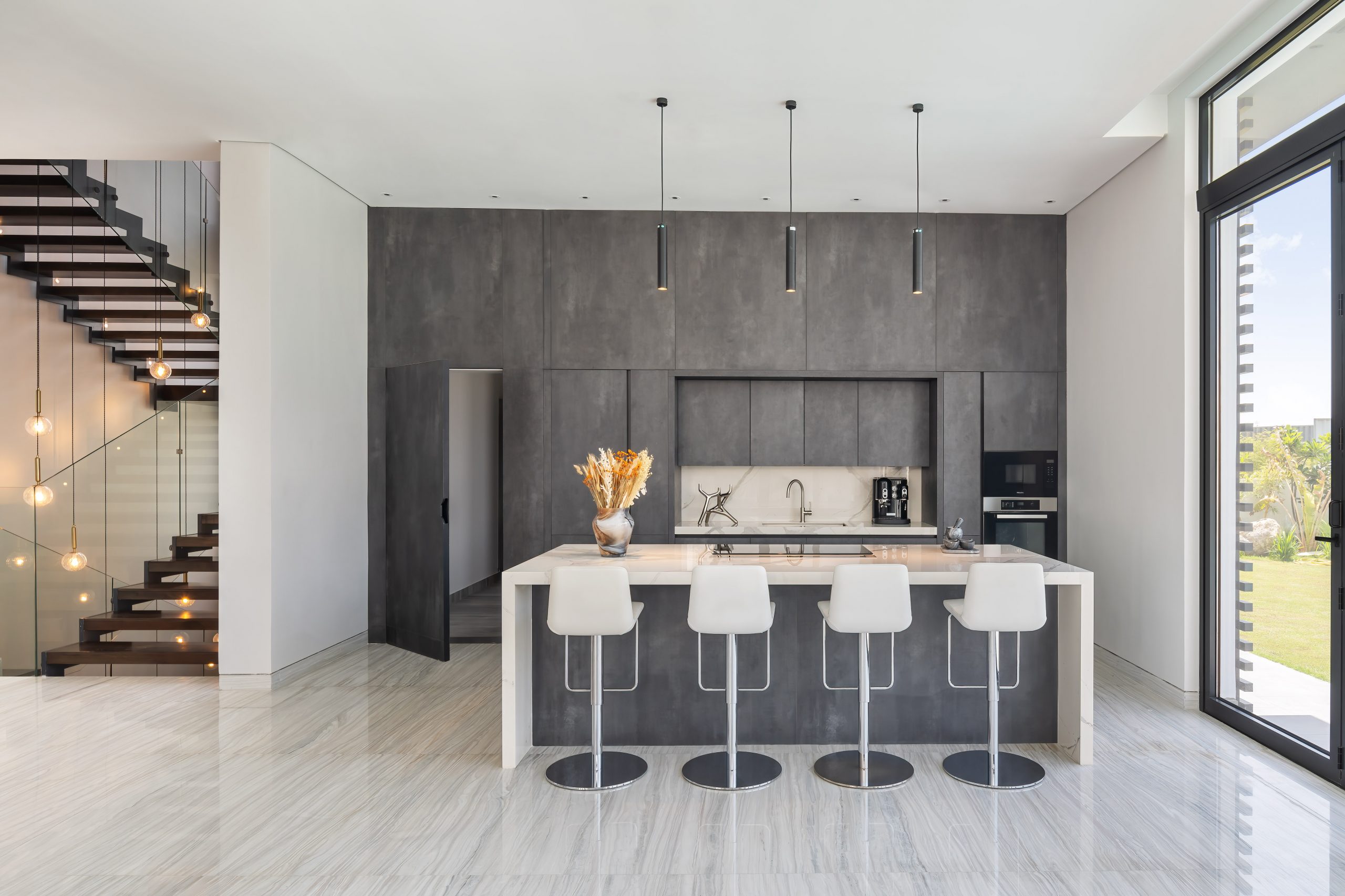 Today's kitchen is all about a well-planned area that makes cooking a completely interactive experience between family and friends. There are so many opportunities to make it the ideal space for you and your friends to come together, make a delicious meal, and enjoy each other's company and finding what works for you is the best part of the design process.
Start your kitchen journey today with the UAE's most experienced kitchen designers at Kaiser Kitchens. Meet us at our showroom on Sheikh Zayed Road or get in touch to speak with one of our team members.